With a packed programme of more than 40 events annually, AFME's strong focus on high-quality content attracts over 300 speakers and 5,000 delegates – giving you unparalleled opportunities to network with and hear from leaders in European financial services.
With AFME's events taking place across major European cities such as Barcelona, Berlin, Brussels, Frankfurt, London, Madrid, Milan and Paris, our coverage reaches throughout Europe. Find out more about our forthcoming programme below.
Ensuring operational readiness for a no-deal Brexit

AFME's 17th Annual High Yield Black Tie Dinner will take place at The Savoy on Thursday 24 January 2019.

Celebrating its 10th anniversary AFME's Spanish Funding conference is the only conference of its kind that is designed by our members to address the most pressing issues and trends affecting the Spanish capital markets.

This year's programme will cover a wide range of topics from STS implementation and NPLs to FinTech and alternative funding.

AFME are pleased to invite you to attend an address on the implementation of the Market Abuse Regulation in the U.K. by Julia Hoggett, Director of Market Oversight at the Financial Conduct Authority.

AFME, Mediobanca and White & Case

AFME, Mediobanca and White & Case are pleased to invite you to the 2019 Italian Debt Capital Market Forum, which takes place on Thursday 14 February 2019 in Milan, Italy.

This evening will be an informal opportunity to network with 200 industry professionals and discuss the key regulatory developments impacting equity markets.

AFME's 12th Annual European Post Trade Conference will take place on 8 May 2019 at etc. venues Fenchurch Street, London.

AFME and IMN are excited to announce the 23rd Annual Global ABS, taking place 11-13 June 2019, in Barcelona, Spain. Over 3,500 leaders in the global ABS market attend this event annually, making it the largest annual European structured finance gathering.
etc venues St Paul's, London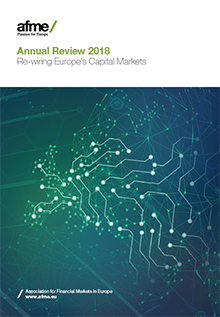 AFME Annual Review 2018
Our 2018 annual review details AFME's achievements over the last year and looks ahead to the challenges of 2019.