29 Jun 2017
Government Bond Data Report Q1 2017
AFME is pleased to circulate its Q1 2017 Government Bond Data Report.
This report provides a comprehensive data source with updated statistics of the Government bond primary and secondary markets in Europe (EU28).
Among the main findings of this report:
Average daily trading volumes of EU government bonds increased 14% QoQ in 1Q17 and 16% YoY, with notable differences between countries (see chart below). EU average turnover ratio increased by 7% in 1Q17 against the previous quarter.


European Government bond gross issuance totalled €684 bn in 1Q17, a decrease of 3.9% from the volume originated in 1Q16 (€712 bn).


Of the instruments issued in 1Q 2017 through auctions, average bid-cover ratios (demand/amount allocated) was 2.07 in 1Q17, a decrease compared to 2.26 in 4Q16 and 2.08 in 1Q16.


The maturity profile of EU sovereigns has continued to shift towards long-term debt securities. Over the last year, outstanding government bond debt with tenors of 15 years or above has increased by 4%, compared with an increase of 1% in 5-10 year bonds and a decrease of 0.2% for <5 year bonds.


Long-term credit ratings were reaffirmed for the large majority of EU countries. One EU country (Cyprus) had its long-term credit rating upgraded during the quarter. There were no credit rating downgrades during the quarter.
Quarterly change in Government Bond average trading volumes
(1Q17 vs 4Q16) Selected European jurisdictions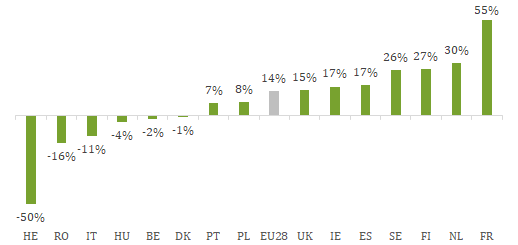 Source: AFME with information from European DMOs and other agency sources and Trax, a MarketAxess subsidiary