18 Jul 2017
Equity Primary Markets and Trading Report: 1H 2017
AFME is pleased to circulate its Equity Primary Markets and Trading Report for the first half of 2017 (1H 2017).
The report collates the performance of the equity market in Europe in areas such as issuance, Mergers and Acquisitions (M&A), trading and valuations.
Key highlights:
Equity underwriting (IPOs, follow-ons and convertibles) on European exchanges accumulated a total of €127.9 bn in proceeds in 1H 2017, a 61% increase from 1H 2016 (€79.7 bn).

The increase was led by a 93% year-to-date (YtD) growth in follow-on offerings- the largest 1H volume since 2009;
Increase of 11% YtD in proceeds from primary offerings (IPOs).



Completed Mergers and Acquisitions (M&A) of European companies totalled €476.9 bn in 1H 2017, a decrease of 9% from 1H 2016 (€521.5 bn)

Fewer leveraged M&A transactions in 1H 2017, with a decline of 31% in the volume of transactions in 1H 2016;
Growing appetite from APAC firms. Chinese firms represented 33% of total inbound M&A in 1H 2017.



Equity trading activity on European main markets and MTFs generated a total of €6.0 tn in turnover value in 1H 2017, a decrease of 6% from the value traded in 1H 2016 (€6.3 tn).


Market capitalisation of European listed shares stood at €13.2 tn at the end of 1H 2017, an increase of 9% from the market value at the end of 2016 (€12.1 tn).
Year-to-date variation of European Equity activity (EU 28 member countries and Switzerland)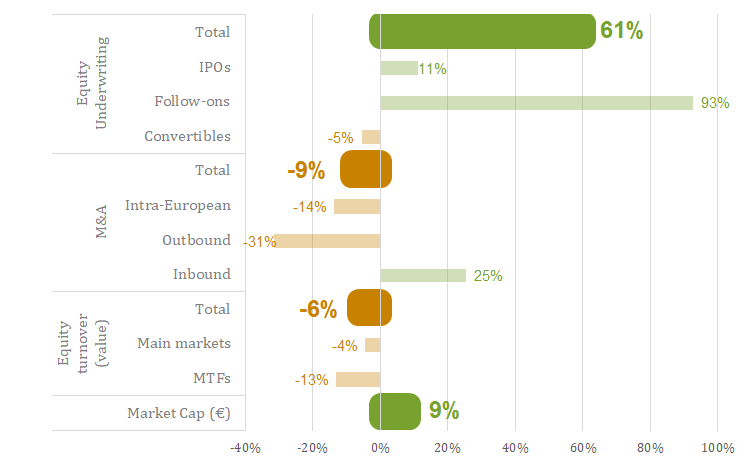 Source: Dealogic, Bats Chi-X, FESE, World Federation of Exchanges, LSEG, ECB, NASDAQ Nordic, Bucharest Stock Exchange and CEESEG - Prague