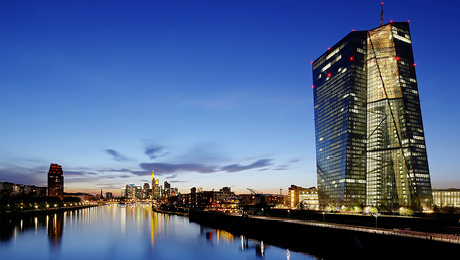 Prudential Regulation
AFME's Prudential Regulation division focuses on the issues relating to changes to the global, EU and UK prudential regulatory frameworks.
Working proactively and reactively on regulatory, legislative and policy initiatives, the division provides members with a forum to discuss prudential issues and concerns, with the aim of:
seeking appropriate, measured and globally consistent regulatory outcomes;
seeking quality policy developments;
enhancing and maintaining AFME's status as a trusted interlocutor;
fostering a regulatory dialogue with the industry; and
contributing industry expertise to informed debates about regulation.
The division is advised by the Prudential Regulation Board, which sets its broad policy focus and objectives, and the Prudential Regulation Committee, which scrutinises proposed regulations and advises on technical matters. These bodies are supported by a wide range of technical working groups.
CRD V / CRR II
AFME is currently closely engaged with the EU's trialogue process to agree CRDV/CRR II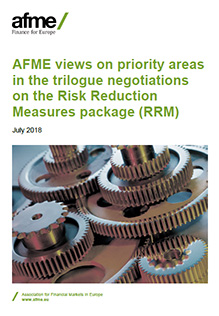 Read AFME's paper: AFME views on priority areas in the trilogue negotiations on the Risk Reduction Measures Package (RRM)
Basel III (December 7 2017 agreement)
AFME is working with international and EU regulators on the future implementation of the Basel III agreement in 2017.
AFME has been and remains extensively engaged in the development of bank Recovery and Resolution frameworks.
AFME is closely following the Council Action plan to tackle NPLs in Europe.
Read AFME's study: Impact of Regulation on Banks' Capital Markets Activities: An ex-post assessment, which was produced in collaboration with PwC.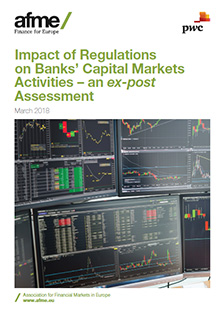 Prudential Regulation Board
Véronique Ormezzano, Chair

BNP Paribas

Joe Traynor, Vice-Chair

J.P. Morgan Chase Bank, NA

Mayur Patel

Bank of America Merrill Lynch

Dipal Patel

Barclays

Ana Rubio Gonzalez

BBVA

Robin Savchuk

BNY Mellon

David Sharland

Citi

Michel Bilger

Crédit Agricole S.A.

Gerry Wright

Credit Suisse

Koen Holdtgrefe

Deutsche Bank AG

Marco Bensi

Goldman Sachs Asset Management International

Katherine Wolicki

HSBC

Johanneke Weitjens

ING Group

Francesca Passamonti

Intesa Sanpaolo SpA

Robert Mitchell

Lloyds Banking Group

Gareth James

Morgan Stanley & Co. International plc

Myriam Le Maoult

Natixis

Emma Riley

Nomura

Jeff Conley

RBS

Gloria Hervas Ortega

Santander

Barbara Sillac Gavanou

Société Générale

Matt Lucas

Standard Chartered Bank

Mark Lawrence

UBS

Costanza Bufalini

UniCredit Bank AG